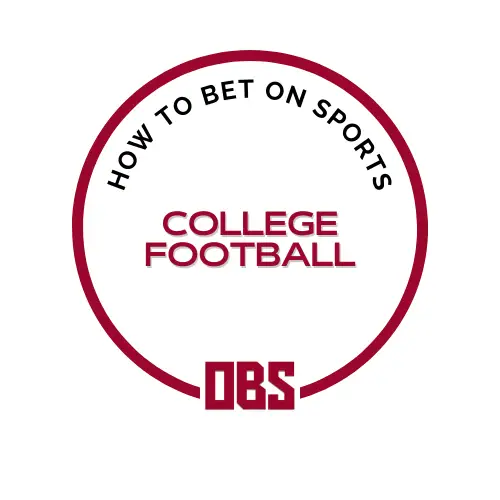 College football stands as one of the United States' most beloved sports, with its popularity rivaling even that of the NFL in certain states. This fervor for the game naturally extends to the realm of sports betting.
College football betting enjoys substantial popularity among punters. Despite its relatively short season, spanning from late August to early January, the action is nonstop.
For those seeking a comprehensive understanding of college football betting, this guide provides all the essential information.
College Football Fundamentals
NCAA college football operates across three divisions, with a twist:
Division I splits into two subdivisions:
The Football Bowl Subdivision (FBS) and the Football Championship Subdivision (FCS).
In the context of college football betting, FBS typically takes center stage, boasting the most prominent college football programs in the U.S. A total of 131 FBS teams make up the roster.
Interestingly, while the NCAA acknowledges the FCS victor as the national champion, the FBS lacks an officially recognized national champion.
Instead, the champion emerges through the College Football Playoffs (CFP). The FBS community agrees that the CFP winner secures the championship, even if NCAA recognition isn't granted.
In reality, any team can stake a claim to a national championship. Throughout FBS history, disputed titles have arisen, as evident in 2017. Alabama clinched the CFP and was bestowed with the FBS championship, yet UCF self-proclaimed its championship status. UCF's stance stemmed from being the sole undefeated team that season, deeming themselves rightful titleholders.
The FBS comprises 131 schools across ten conferences. Seven teams function as independents, detached from any conferences. Teams engage in non-conference games initially but primarily tackle conference games in their schedules. Independent teams have the flexibility to choose their opponents.
Before 1992, the FBS lacked a championship game. National ranking determined the champion, yielding numerous contested titles.
Displeased teams would declare themselves national champions. In 1992, FBS schools established the Bowl Coalition, arranging a National Championship game featuring the top 2 ranked teams.
The Bowl Coalition evolved into the Bowl Alliance in 1995, which transitioned into the Bowl Championship Series (BCS) in 1998. In 2013, the BCS transformed into the four-team bracket of the CFP.
Year-end brings the Bowl Season in the FBS. Bowls permit conference champions to clash in single postseason games.
Winning a Bowl could propel teams toward the coveted #1 rank. Presently, although Bowls hold less sway in national rankings, they remain crucial for programs, especially emerging ones.
The Bowl Season encompasses 43 games and arguably stands as the pinnacle of the college football betting calendar.
Of these, six key games align with New Year's Eve and New Year's Day, fittingly labeled "New Year's Six."
During the postseason, two of the New Year's Six bowls serve as CFP semifinals, with the victors advancing to the CFP National Championship Game in January.
Types of Bets in College Football
Throughout the college football season, sportsbooks furnish a plethora of betting odds and college football info.
A diverse array of college football betting markets awaits:
College Football Betting Markets

| | |
| --- | --- |
| Moneyline | A straightforward wager on the game's outcome, predicting the winning team. |
| Over/Under | A highly-favored market where you predict whether the combined match score will surpass or fall short of the NCAAF odds established by the bookmaker. |
| Future Bets | Betting on forthcoming events, such as the national champion, conference champions, Heisman Trophy winner, and more. |
| Point Spreads | Both teams receive a handicap – negative for the favorite and positive for the underdog. The favorite wins the bet if it triumphs by a margin that compensates for the negative handicap. The underdog wins if it loses by a margin smaller than its handicap or secures an outright victory. |
| Prop Bets | Wagers on propositions independent of the game score. Will there be overtime? How many yards will the quarterback throw? How many first downs will the first-half record? Which teams will reach the CFP? |
| Parlay Bet | Combines multiple individual bets into one, multiplying their odds for a larger payout. However, if one parlay component loses, the entire bet fails. Victory in all parlay legs is essential for winning the bet. |
College Football Betting Tips
Explore Diverse Markets
Player Availability Matters
Leverage Sagarin Rankings
Explore Diverse Markets
In matchups featuring a top-ranked team against an underdog, the odds of a one-sided outcome are high. Rather than settling for low returns from Moneyline bets, explore alternative markets.
Player Availability Matters
Leverage Sagarin Rankings
College Football Betting Examples
◻ Odds for the 2022 Heisman Trophy have Ohio State quarterback C.J. Stroud as the mid-season favorite at +100, meaning a $100 payout for every $100 bet. Tennessee quarterback Hendon Hooker comes next at +200, followed by Michigan running back Blake Corum and USC quarterback Caleb Williams, both at +1400.
◻ Ohio State is also the mid-season favorite for the 2022 national championship. The Buckeyes have +180 odds to become the champions, paying $180 for every $100 bet. Reigning champion Georgia comes next at +190.
◻ Using the Sagarin system, a hypothetical CFP National Championship Game between Ohio State and Georgia would have the Buckeyes (103.13 ratings) as 7.29 favorites over the Bulldogs (95.84 ratings)
Pros and Cons of Betting on College Football Games
🔹 Wide Range of Betting Markets:
College football offers a diverse array of betting options, including moneyline bets, point spreads, over/under bets, prop bets, futures bets, and more. This variety allows bettors to choose from different strategies and preferences.
🔹 Opportunities for Informed Decisions:
College football provides extensive statistics, historical data, and analysis on teams, players, and matchups. Bettors can use this information to make well-informed decisions, enhancing their chances of success.
🔹 Potential for High Returns:
Due to the large number of games and teams in college football, opportunities arise for finding undervalued teams or exploiting favorable odds. Betting on underdogs or identifying overlooked trends can lead to higher payouts.
🔸 Unpredictable Outcomes:
College football games can have unexpected results due to factors like injuries, weather conditions, or last-minute changes in team dynamics. This unpredictability can make accurate predictions difficult.
🔸 Complexity and Depth:
College football involves numerous teams, conferences, and matchups, which can be overwhelming for bettors, especially those new to the sport. Analyzing all these variables can be time-consuming and challenging.
🔸 Emotional Involvement:
Bettors might find it hard to remain objective when betting on their favorite college teams. Emotions can cloud judgment and lead to impulsive bets, potentially impacting the overall betting strategy.
Summary
College football stands as a beloved American sport, boasting fervent supporters and captivating matchups. The inclusion of NCAAF game betting amplifies the excitement, offering favorable odds and potential rewards. Engaging with NCAAF games not only provides thrilling entertainment but also the opportunity to secure satisfying payouts. While keeping tabs on all 131 teams may be challenging, the positives of college football betting remain undeniably enticing.