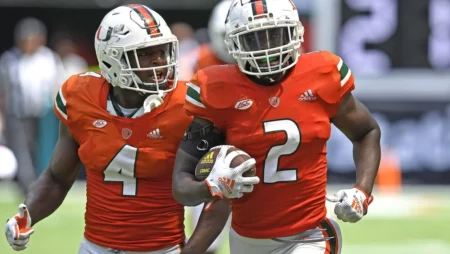 Odds, Picks and Predictions
The Miami Hurricanes are 1-1 against the run line this season.
The Texas A&M Aggies are 0-2 against the run line this year.
The Aggies are 0-2 against the run line when playing at their home field.
The Hurricanes were 3-1 against the run line last year when playing on the road.
Miami was 3-1 against the run line as an underdog last year.
Texas A&M is 0-2 against the run line as a favorite this season.
The Miami Hurricanes (2-0) and Texas A&M Aggies (1-1) will go head-to-head in a Saturday evening matchup.
The Hurricanes have enjoyed a superb 2022 campaign so far. They had high expectations and have played up to those expectations so far. However, they are just 1-1 ATS on the year.
Meanwhile, the Aggies are 1-1 overall on the season. Texas A&M earned a convincing 31-0 victory over Sam Houston State in the season opener. But they were upset in dramatic fashion by Appalachian State 17-14 in Week 2.
The Aggies will try to jump back into the win column in Week 3.
Kickoff is scheduled for 9:00 PM EST on Saturday, September 17th, at Kyle Field in College Station, Texas.
Miami Hurricanes at Texas A&M Aggies Odds
| | | | |
| --- | --- | --- | --- |
| Teams | Moneyline | Total | Run Line |
| Miami Hurricanes | +195 | O/44.5 | +6 |
| Texas A&M Aggies | -225 | O/44.5 | -6 |
Despite suffering an absolutely devastating upset a week ago, the Aggies are still favored to win at home against a far stronger opponent in Miami.
This game could turn one of two ways for Texas A&M. They may be forced into lackluster play following the blow of last week's loss. On the other hand, their motivation to win may skyrocket given their upset defeat last week.
Miami needs to kick off this game with energy. They will place themselves in a good position to win if they start strong.
Let's take a closer look at the odds for this affair.
Top Sportsbooks Odds
TOP #3 Sports Betting Sites to Bet on NCAAF
The Aggies are the favorites across the board. But they won't win if they play the way they did last week.
Miami undeniably features a quality amount of upset potential. Can they upset the odds in College Station this weekend?
Miami Hurricanes at Texas A&M Aggies Betting Preview
Miami Hurricanes Preview
Miami is off to a strong 2-0 start to the 2022 campaign. The Hurricanes defeated Southern Miss by a final score of 30-7
Miami and Southern Miss were in the midst of a competitive game heading into halftime. The Hurricanes led 10-7, and Southern Miss was playing well. But Miami took control in the second half and proceeded to score 20 unanswered points.
Tyler Van Dyke recorded over 250 yards with a touchdown. He went 20-29, passing in the win.
Running back Henry Parrish Jr tallied 97 yards on the ground with a touchdown. Thaddius Franklin Jr had 57 rushing yards with a touchdown as well.
The Miami defense had some struggles early in the game, which led to a Southern Miss TD. But their defense stepped up in the second half and shut them out.
It was an all-around impressive performance for a team with lofty 2022 expectations. But they are the underdogs heading into this contest with Texas A&M. The Hurricanes will need to be at the top of their game in order to pull off the upset.
Texas A&M Aggies Preview
Texas A&M were heavy favorites ahead of their matchup with App State. So what went wrong in their shocking 17-14 loss?
The Aggies had no answer for running back Camerun Peoples, who posted 112 yards in the game. Despite not scoring a TD, he ran for 112 yards on the ground.
The Texas A&M offense was unable to come up clutch when they needed it as well. QB Haynes King went 13-20 with just 97 yards. Their inability to make big plays hampered their scoring prowess in the loss.
Defensively, it was not a bad game for Texas A&M. As aforementioned; they did not contain the run all that well. But they only surrendered a pair of touchdowns overall.
The offense is going to need to play better if they want to cover the spread against Miami.
The Aggies have played both of their games to open the year at home. Nevertheless, they have been unable to cover the spread in either contest. Rolling with the Aggies has not been a lucrative venture up to this point.
Their 1-1 record overall is not ideal, given their matchups and home-field advantage up to this point. They need to turn things around right away to avoid 2022 turning into a lost year for the program. 
Injury Report
Miami's top wide receiver Xavier Restrepo is expected to miss Saturday's game at the very least. His timetable is unclear, and his return date has not been set.
Akeem Mesidor is expected to return on Saturday, barring any setbacks. They missed him last week and will benefit from his presence.
For Texas A&M, McKinnley Jackson's status is questionable for Week 3 after missing last week.
Miami Hurricanes at Texas A&M Aggies Picks and Predictions
Which team should you place your money on in this game? Can the Aggies rebound and cover the spread, or are the Hurricanes destined to upset the odds.
This should be a good game. But Jimbo Fisher's squad should be able to get the job done. They are going to play hard after suffering such a brutal loss a week ago.
This is going to be an exciting affair that sees the Aggies take care of business in the end.
The Pick:
Go ahead and take the Texas A&M Aggies with your betting selection in this Saturday's college football game.
Check out the Best Sportsbooks to Bet Online at Online Betting Sports-TOP Offshore Sportsbooks and Sports Betting Bonuses