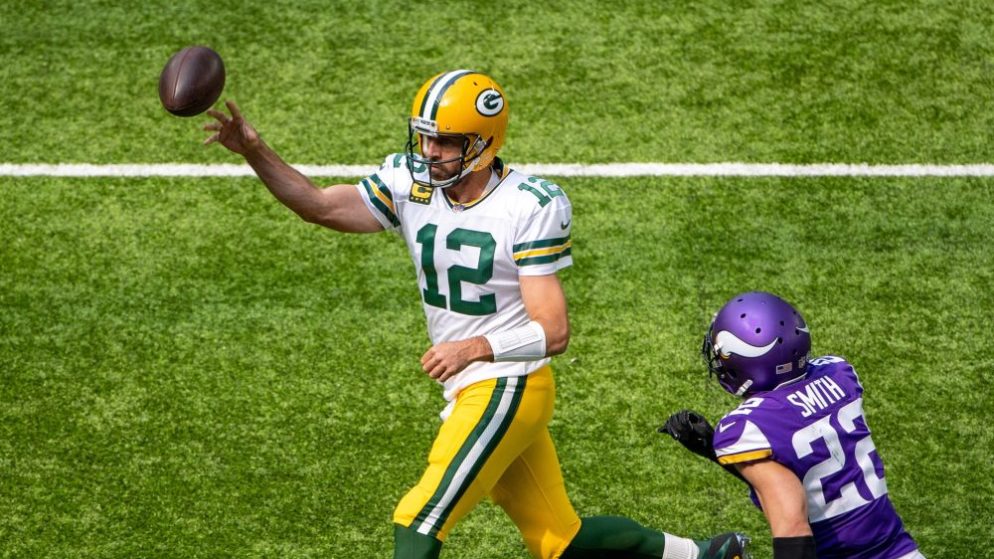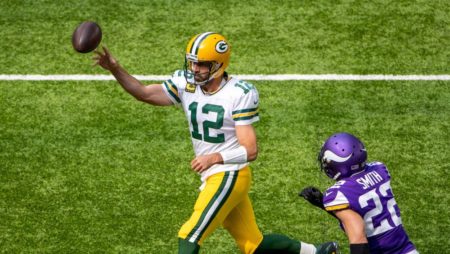 Green Bay Packers at Minnesota Vikings NFL Betting Analysis, Odds & Picks
The Green Bay Packers (8-2) will travel to Minnesota to battle the Vikings (4-5) on Sunday at 1 PM EST at U.S Bank Stadium. This is a longstanding rivalry that always promises an intense brand of football. While the Packers have obviously been the better team in 2021, anything can happen when Green Bay and Minnesota meet.
The Packers are coming off of a solid 17-0 victory over the Seahawks, while the Vikings downed the Chargers 27-20 last week. Both of these teams are aiming to stay in the win column in Week 11.
Betting Analysis for Green Bay Packers at Minnesota Vikings
Green Bay Packers Betting Stats & Analysis
The past couple of weeks have felt something like a circus ride for the Packers. They have faced accusations for not enforcing the covid regulations, and Aaron Rodgers had a complete fiasco after being diagnosed with covid. But one thing about this team is that they are resilient in every sense of the word.
Rodgers and Green Bay did not let any form of scrutiny hinder their confidence, and they went and shut out Seattle last week.
Fans may look at the record disparity between the Packers and Vikings heading into this NFL Week 11 affair and automatically assume Green Bay will leave victorious. But the Packers know better than to take any game for granted, especially one against a rival such as Minnesota.
Vikings running back Dalvin Cook is going to be a problem for the Packers' defense. They will need to do their best to contain him. However, as long as they limit the passing game of Minnesota, Cook likely won't single-handedly be able to carry the entire offense.
The Packer's offense was far from great last week, but it also was Rodger's post-covid debut. Expect the passing attack to look more in sync in this game. Running back Aaron Jones is expected to miss at least 1-2 weeks after suffering an injury against the Seahawks, so the Packers will need to rely on throwing the football and getting whatever they can from their backup running backs.
If Rodgers does look sharp out of the gate, that would open the door for the Green Bay running game to be more effective since the Vikings defense would be aiming to stop the passing game.
Minnesota Vikings Betting Stats & Analysis
Dalvin Cook, Dalvin Cook, and some more Dalvin Cook. The star running back had a "down" game last week where he posted 118 total yards and a touchdown against the Chargers. Yet, as aforementioned, many experts felt this was far from his best effort.
That tells you how talented Cook truly is.
However, Green Bay does offer a solid run defense. While they won't be able to flat-out stop Cook if they hold him to under 100 rushing yards with one or less touchdowns, that would feel like a victory for this defense.
Quarterback Kirk Cousins and the Minnesota passing game looked decent last week, but they will face a good Packers secondary that excels at causing havoc for opposing QBs. In fact, the Packers have intercepted at least one pass in every game this season except two.
If the Vikings want to pull off the upset, it may very well come down to how well they throw the ball and limit turnovers.
The Vikings' defense is not anything to write home about, and they can only do so much running the ball. If they are able to gain yardage and score through the air, that would open up a whole new look of opportunities in this game. If Cousins and co. struggle, then the Packers will be able to sell out for the run and limit Minnesota's offensive options.
Green Bay Packers at Minnesota Vikings NFL Betting Trends
The Packers are 9-1 ATS this season. However, they have hit the over just twice out of their ten games on the year. Green Bay averages just over 21 points per contest, while the Vikings surrender just over 23 points per game.
The Packers are 6-1 ATS when favored to win by 1.5 points or more.
Minnesota is 5-4 ATS in 2021. They are 4-0 ATS when favored to lose by 1.5 points or more. The Vikings have hit the over in four of their nine games on the season.
Green Bay Packers at Minnesota Vikings NFL Betting Odds
Bovada has Green Bay as 1.5 point favorites entering Sunday. BetUS lists the Packers as 1 point favorites against Minnesota on the road.
Where to Find the Best Betting Odds to Bet Online?
TOP #3 Sports Betting Sites to Bet on NFL
How to bet on: Green Bay Packers at Minnesota Vikings – Betting lines
The oddsmakers understand how competitive these matchups are despite the records. We should be in store for an exciting ballgame in Minnesota on Sunday.
It really comes down to Aaron Rodgers vs Dalvin Cook, one of the best quarterbacks against one of the best running backs in the entire game of football. The difference is that Rodgers has a much more capable overall team around him. Cook will have to carry his team on his back if the Vikings truly hope to pull out the win on Sunday.
OBS Betting Picks for Green Bay Packers at Minnesota Vikings NFL
The Packers are not taking any games for granted this season. They want to win as often as possible, secure a high seed for the postseason, and make a Super Bowl run. They understand that every game matters in that sense, so I fully expect Green Bay to play their best on Sunday.
The Packers will earn a hard-fought victory on the road in this game despite a valiant effort from Minnesota.
Take the Packers at -1.5
Now that you have all the information you need to place an informed bet, it is time to start increasing your income.
Pick up the best sports betting site, sign up and make your bet on the Green Bay Packers vs the Minnesota Vikings.
Related Articles: