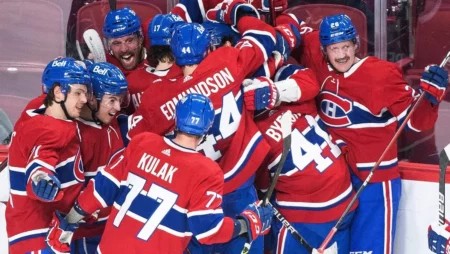 Betting Analysis New York Islanders at Montreal Canadiens NHL
The New York Islanders (34-30-9) travel to Montreal to take on the Canadiens (20-43-11) on Friday night. 
The Islanders were defeated on Thursday by the Penguins in Pittsburgh 6-3. However, they had previously beat the Penguins in New York 5(1)-4. 
Montreal is also coming off of a loss against Columbus in their last time on the ice. The Canadiens have now dropped three games in a row leading into Friday's action.
The season series between Montreal and New York is tied at one apiece. The Islanders cruised to a 6-2 victory in their first head-to-head matchup before the Canadiens answered with a 3(2)-2(1) competitive victory.
This game is scheduled for 7:00 P.M. EST on Friday, April 15th, at the Bell Center in Montreal.
Let's take a look at what team you should roll with on Friday night. 
TOP #3 Sports Betting Sites to Bet on NHL
Betting Analysis for New York Islanders at Montreal Canadiens NHL Betting Analysis, Picks
New York Islanders Betting Stats & Analysis
The Islanders dropped a high-scoring 6-3 affair on Thursday against Pittsburgh.
The Penguins came out strong and never looked back with two early goals. After trading goals in the second period, New York scored two goals in the third but Pittsburgh found the back of the net three times in the period which led to their three-goal victory.
Goalie Ilya Sorokin labored in the game. He saved just 22 of 26 shots which led to an .846 save percentage. Offensively, Anders Lee, Zach Parise, and Zdeno Chara all scored for the Islanders.
The Islanders defensive struggles were unprecedented. New York is the fourth-best team in containing opposing offenses this season as evidenced by their fourth placing ranking in total goals allowed. But they were clearly unable to limit the Penguins in the difficult loss on Thursday.
The Islanders are ranked fifth in the Metropolitan division entering play. They have had a rather mediocre season but will look to bounce back with a win against the Canadiens in this affair.
Montreal Canadiens Betting Stats & Analysis
It has undeniably been a difficult season in Montreal. The Canadiens have consistently struggled and that did not change in their last outing against Columbus.
The Blue Jackets scored one goal in the first, two in the second, and two more in the third to give them points in the game. Meanwhile, Montreal was able to just score once in the second period in the 5-1 defeat.
It was a rough contest for Sam Montembeault who saved just 26 out 31 shots which was good for an .839 save percentage. The only Canadiens' goal came via Ryan Poehling.
This game was simply another underwhelming performance for a team that is trying to find an identity.
The offense has been an issue without question. Montreal is the 27th ranked team in the NHL in goals scored and they tend to fail in terms of taking advantage of opportunities when they present themselves. 
With that being said, the main problem stems from the defensive end. Montreal is ranked dead last in total goals allowed with a mark of 282. They seemingly have no answer for opposing offenses whenever they take the floor.
The Canadiens need to find an answer on defense or New York will glide to an easy victory on Friday night.
New York Islanders at Montreal Canadiens NHL Betting Trends
New York Islanders:
New York is 15-16 SU on the road.
The Islanders are 35-37 ATS this season.
They are 16-21 ATS on the road this year.
New York has an over/under record of 35-36-1.
The Islanders own a road over/under record of 21-16.
Montreal Canadiens:
The Canadiens are 10-21 SU at their home arena.
Montreal is 36-38 ATS this year.
They are 16-19 ATS at home this season.
The Canadiens have an over/under record of 41-31-2.
Montreal owns a home over/under record of 18-16-1.
New York Islanders at Montreal Canadiens NHL Betting Odds
The Islanders are the clear favorites in this matchup despite playing on the road. New York has not been the best team in the league but they have far more talent than Montreal. The Canadiens massive defensive struggles makes them an extremely risky team to trust.
New York's strong effort on defense should do enough to limit Montreal, while they should also be able to score enough goals to get the job done on the road.
Although this game could be closer than people may expect, there is a reason why the Islanders are the favorites.
Where to Find the Best Betting Odds to Bet Online
How to Bet On: New York Islanders at Montreal Canadiens NHL – Betting lines
Is there any chance for a Montreal upset at home? After all, they did defeat New York in their last head-to-head matchup.
However, they have not given anybody any reason to place their money on them right now. The Canadiens are laboring and playing at home does not change that fact. The Islanders are a formidable squad that has the ability to take care of business against the Canadiens.
You can feel confident taking the road favorites in this contest.
OBS Betting Picks for New York Islanders at Montreal Canadiens NHL
Take the New York Islanders -1.5 with your NHL Friday night betting selection in what should be an entertaining matchup. 
Now that you have all the information you need to place an informed bet, it is time to start increasing your income.
Pick up the best sports betting site, sign up and make your bet on the New York Islanders at Montreal Canadiens NHL game scheduled for Friday, April 15th, 2022.
Check out the Best Sportsbooks to Bet Online at Online Betting Sports – TOP Offshore Sportsbooks Betting Bonuses