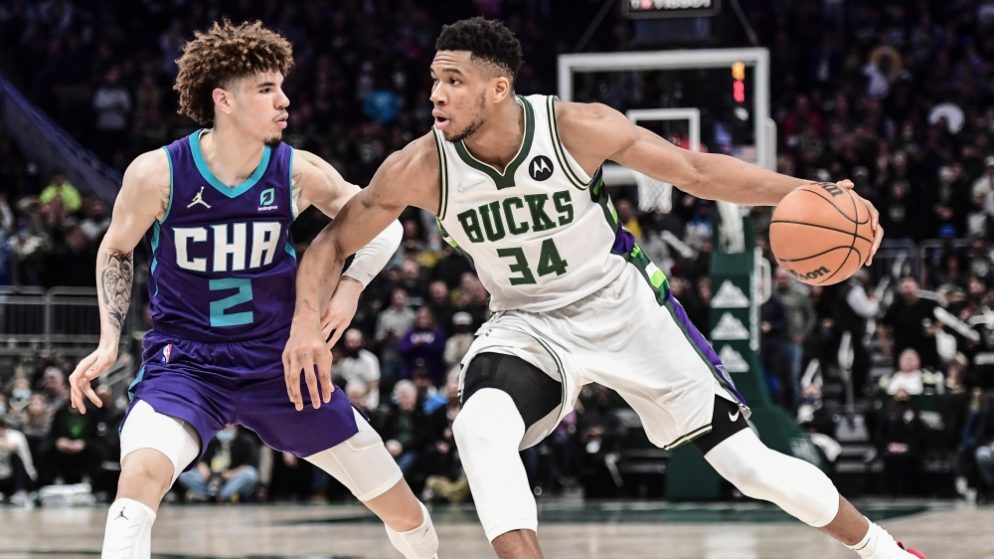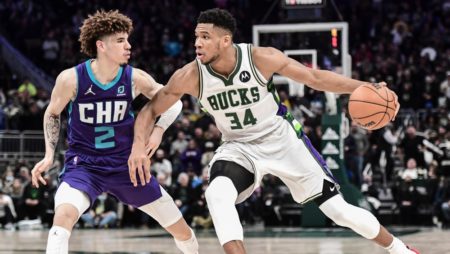 Milwaukee Bucks at Charlotte Hornets NBA Betting Analysis, Picks
The Milwaukee Bucks (26-16) will battle the Charlotte Hornets (21-19) on Monday at the Spectrum Center in Charlotte, North Carolina. Tip-off is scheduled for 7:00 P.M. EST.
The Bucks will look to get revenge after the Hornets defeated Milwaukee on Saturday in Charlotte by a final score of 114-106. The Hornets will look to make it two in a row vs. the Bucks.
The Hornets have won two games in a row entering Monday but are just 5-5 over their past ten contests. Meanwhile, Milwaukee has dropped three of their past five, but they are 7-3 over their last ten games.
The Bucks come into Monday's action sitting in fourth place in the East, while the Hornets place eighth in the conference.
Betting Analysis for Milwaukee Bucks at Charlotte Hornets NBA
Milwaukee Bucks Betting Stats & Analysis
The Bucks were unable to defeat Charlotte on Saturday despite 43 points from Giannis Antetokounmpo and 27 from Khris Middleton. Additionally, Giannis grabbed 12 boards, and Middleton posted ten rebounds and nine assists. But the duo's extraordinary performance proved not enough, and Milwaukee ended up losing 114-106.
The main issue for the Bucks was a lack of depth. Jrue Holiday, Grayson Allen, Pat Connaughton, George Hill, and Donte DiVincenzo were all either in health and safety protocols or dealing with injuries for this game.
That left a gaping hole in the scoring department for the Bucks. Nobody other than Giannis, Middleton, and Bobby Portis scored more than 9 points in the game. Portis was solid with 19 points and 13 rebounds to his credit.
Milwaukee also only received five points total from their bench scorers. The Bucks are hopeful of getting at least Connaughton back for Monday's affair. However, he is currently listed as questionable.
Milwaukee finds themselves in the fourth spot in the Eastern Conference standings heading into Monday, and they should start playing better once everyone gets healthy. As a team, they rank third in points per game, second in rebounds per game, and seventh in three-point percentage.
Giannis and Middleton will look to continue leading the charge in those categories and help the Bucks rebound on Monday night.
Charlotte Hornets Betting Stats & Analysis
The Charlotte Hornets enjoyed a tremendous outing on Saturday in their victory against Milwaukee.
Terry Rozier led the scoring outburst with 28 points. Miles Bridges dropped 21 and grabbed eight rebounds, while LaMelo Ball scored 19, had nine rebounds, and posted eight assists.
Unlike Milwaukee, Charlotte had some help from the bench as well. Kelly Oubre scored 18 points in a depth role, and P.J. Washington added 7 points and eight rebounds.
The Hornets have endured an up-and-down 2021-2022 campaign so far. But they have hung around in the East and are currently in the eighth slot in the conference. Their offense has carried them all season long up to this point.
Charlotte is the NBA's leading team in points per game with a mark of 116. They also rank within the top ten in field goal and three-point percentage. This is a team that has a number of crafty scorers, and they can find the bottom of the net in a number of different ways. 
The Hornets have played Milwaukee well this season. In the first meeting between these two teams, the Bucks narrowly escaped with a 127-125 victory. Charlotte obviously got their revenge in the next meeting with their recent 114-106 win on Saturday.
The Hornets will look to keep the pedal down and make it two consecutive victories against the reigning champions at home on Monday night.
Milwaukee Bucks at Charlotte Hornets NBA Betting Trends
Milwaukee Bucks:
The Bucks are 19-23 ATS this season.
Milwaukee is 7-8 ATS following a loss.
They are 12-10 ATS as the road team.
The Bucks are 16-15 ATS as a favorite.
Milwaukee is 10-4 ATS as a road favorite.
The Bucks are 13-9 SU on the road this year.
They are 23-8 SU as a favorite.
The Bucks feature an over/under record of 18-24.
Charlotte Hornets:
Charlotte is 24-16 ATS this year.
The Hornets are 11-9 ATS following a win.
They are 13-3 ATS at their home arena.
Charlotte is 17-13 ATS as an underdog.
The Hornets are 8-2 ATS as a home underdog.
They are 11-5 SU at home.
Charlotte is 13-17 as an underdog.
The Hornets have an over/under record of 22-17-1.
Milwaukee Bucks at Charlotte Hornets NBA Betting Odds
Yahoo Sportsbook lists the Bucks as 1.5-point favorites in this game.
BetUS, BetNow, and Betonline have yet to release their odds for this game.
Where to find the Best Betting Odds to Bet Online?
TOP #3 Sports Betting Sites to Bet on NBA
How To Bet On: Milwaukee Bucks at Charlotte Hornets NBA – Betting lines
This is bound to be a competitive game.
Milwaukee will see an uptick in scoring as an overall unit. There is no way that they only receive five total points from their bench again.
The Bucks have proved to be resilient over the past few years, and they do an impressive job of discovering opponents' weaknesses after playing them multiple times.
Charlotte is an upbeat, offensive-minded team. They are going to score a lot of points but also allow quite a few points.
With all of this being said, I like Milwaukee to cover the 1.5 point spread. Giannis and Middleton should do their part to lead the Bucks to a close victory on Monday night.
OBS Betting Picks for Milwaukee Bucks at Charlotte Hornets NBA
Bet on the Milwaukee Bucks to cover the -1.5 point spread.
Now that you have all the information you need to place an informed bet, it is time to start increasing your income.
Pick up the best sports betting site, sign up and make your bet on the Milwaukee Bucks and Charlotte Hornets NBA game on Monday, January 10th, 2022. 
Check out the Best Sportsbooks to Bet Online at Online Betting Sports – TOP Offshore Sportsbooks and Sports Betting Bonuses