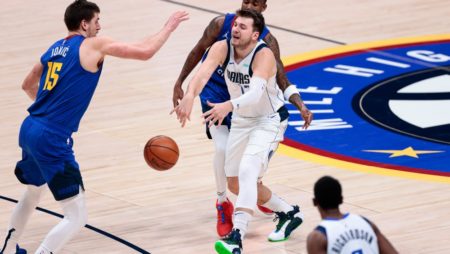 Monday Night Showdown in Dallas
A couple of top-tier Western Conference teams prepare to face off in the Lonestar state, as the Denver Nuggets (9-4) will travel to Dallas to take on the Mavericks (8-4). This is a game that will feature plenty of star power, and we should be in for a thriller on Monday night. Tip-off is scheduled for 8 PM EST.
The Nuggets are coming off of a five-game homestand and earned a victory on Sunday, while Dallas is returning home after winning in San Antonio on Friday. This does give Dallas an advantage in terms of rest. But the Nuggets are scorching hot right now.
Let's take an in-depth look at this exciting NBA contest and provide you with all of the information necessary to place an informed bet on this game and make some money.
BETTING ANALYSIS for DENVER NUGGETS at DALLAS MAVERICKS
DENVER NUGGETS BETTING STATS & ANALYSIS
The Nuggets are coming off a homestand that saw them go 5-0. However, Monday's affair will represent a back-to-back for Denver as they make the trip to Dallas.
Nikola Jokic got it done on Sunday in the victory over the Trailblazers, as the star big man just missed a triple-double with 28 points, nine rebounds, and nine assists. He will look to lead Denver to a sixth straight win on Monday.
Denver can extend their five-game winning streak if they are able to continue limiting perimeter shots while working at a fast pace. This is a team that prefers to run the ball up the court in the transition, while the Mavericks prefer to slow the pace and set up the offense.
Playing in the mile-high city already gives the Nuggets an advantage from a stamina perspective, and their game plan has to revolve around pushing the issue and forcing the Mavs to run up and down the court more than they would like. Nikola Jokic could be in for another big game as well since Dallas is not a terrific rim-protecting team.
DALLAS MAVERICKS BETTING STATS & ANALYSIS
After a rough beginning to their season, the Mavericks have recently turned the ship around as they have won four out of their last five matchups. They last played on Friday, where they defeated San Antonio 123-109.
Luka Doncic is starting to heat up and look like his MVP caliber self, while Kristaps Porzingis has had a respectable start to the campaign by averaging 17.9 points and 7.4 rebounds per game. The Dallas big man is also coming off one of his best performances of the year against the Spurs, as he scored a season-high 32 points while Doncic added a triple-double in the victory.
Dallas has been hoping this duo can come together for a while now and lead the Mavericks to the promised land, and perhaps this is the year that comes to fruition.
The main question for Dallas entering Monday is how can they guard Nikola Jokic? The easy answer might seem to implement a double-team, but Jokic is a talented passer and playmaker, which makes a potential double-team likely to backfire. But it could end up being their only option if the big man is at his best.
If the Mavericks can find a way to limit the Joker, their odds of winning will greatly increase playing at home.
DENVER NUGGETS at DALLAS MAVERICKS NBA BETTING TRENDS
Denver is 4-1 ATS over their last five outings. Dallas is 3-7 ATS over their last ten games. Despite the differential in spread victories as of late, these two teams are separated by just one-half of a game in the standings.
DENVER NUGGETS at DALLAS MAVERICKS NBA BETTING ODDS
BetUS lists Dallas as a 4-point favorite for Monday.
Bovada echoes a similar sentiment by also favoring the Mavericks by 4 points at home.
Despite the strong play of Denver over their last five games, the oddsmakers believe that they are due for regression on Monday on the road and enduring a back-to-back. While there is a possibility the Mavs will be a bit slow to start the game after getting the weekend off, they also will be well-rested and could take control of this one late in the game.
Where to Find the Best Betting Odds to Bet Online?
TOP #3 Sports Betting Sites to Bet on NBA
HOW TO BET ON: DENVER NUGGETS at DALLAS MAVERICKS – BETTING LINES
Two impressive teams, who sit in third and fourth in the strong Western Conference and are separated by less than a game? This is destined to be an exciting matchup on Monday night.
There is some excitement surrounding the Mavericks organization right now. They have failed to meet expectations over the past couple of seasons, but it really does seem as if they are clicking as a unit as of late. If this team truly is shaping into form, they are going to be a major threat moving forward.
But Denver has confidence as well, as they are playing well despite missing point guard Jamaal Murray who is out with an ACL injury, and Michael Porter JR dealing with back problems. It is scary to think how good they can be once those two players return.
OBS BETTING PICKS for DENVER NUGGETS at DALLAS MAVERICKS NBA
While both teams are trending in the right direction, expect Dallas to earn the victory and bring an end to the Nuggets' five-game win streak.
Dallas is at full strength, while the Nuggets are not. Denver is still a talented team, but the Mavericks are at home and rested, which should lead to big performances from their stars.
Take Dallas at -4.
Now that you have all the information you need to place an informed bet it is time to start increasing your income.
Pick up the best sports betting site, sign up and make your bet on the Nuggets at the Mavericks.