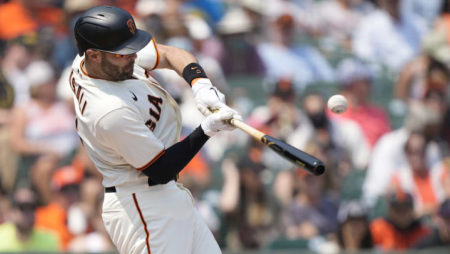 New York Mets at San Francisco Giants Betting Prediction and Preview
The Mets and Giants will open up a three-game series out West. A tale of two different weeks going on in this series. The Giants have won seven of their last eight games and are in the NL West's driver seat. If betting on this game this evening, head over to Online Sports Bettings to see the MLB odds.

The Mets, on the other hand, are in a tough spot. They are coming off just being swept by the Dodgers. It just seems like these guys can not catch a break. Their IL list looks like a mini all-star roster with names like Baez, Lindor, deGrom, Betances, and Syndergaard all filling it up.

The Giants have the fate of their season in their own hands at this point. They are four games up on the Dodgers, ten games up on the Padres, and have the most wins in baseball at 76. It just seems like, at this point, they can do no wrong. Taking on a very weak Mets team should do nothing but increase those numbers.

If the Giants look like the easy pick with Gausman on the mound, make sure to bet San Francisco by clicking Online Sports Betting

And now the betting picks for the game.
The spread for Monday night is San Francisco -1.5. The over/under is eight runs. The Mets moneyline is +184, while the Giants are at -201 to win.
TOP #3 Sports Betting Sites to Bet on MLB
Mets Look to Bounce Back
This last series was a less than impressive run for the Mets. Being outscored 22-10 in the three-game series just does not bold well for success.

When looking at the Mets' previous results, it is a roller coaster of wins and losses. They have swept teams but have also been swept just as well. The one thing about their season is they have only lost more than three games in a row one time.
Giants are Trying to Stay Consistent
Barring any absolute craziness to the end of the regular season, the Giants have set themselves up to find their way into the postseason. They have done that by being solid in both aspects of the game.

When it comes to offense, they are hitting over .240 as a team and are just shy of averaging five runs a game. On the defensive side, they are second in all of Major League Baseball in fielding percentage and second in ERA in all of baseball at 3.32.
Rich Hill will take the Mound for the Mets
Rich Hill will make his fourth start for the Mets since being moved at the trade deadline. He has yet to record a decision in his three previous starts.

He has gone 18 innings in his three starts, given up ten earned runs, and struck 12 batters out. He comes in with a 5.00 ERA and is looking to try to find a way to slow down a scorching hot Giants offense.
Gausman Will be on the Hill for the Giants
The all-star Kevin Gausman will be on the mound this evening for the Giants. In 2021, Gausman has been dominant. Posting an 11-5 record, he is definitely in Cy Young talks.

What makes Gausman tough is teams have struggled to hit the long ball off of him. In 137 innings, Gausman has only given up 12 home runs. His strikeout to walk ratio is right around 4:1.
Giants Win
There is no doubt here who the winner will be with the San Francisco Giants winning this game easily. With a 40-18 home record, the Mets (23-35 on the road) do not stand much of a chance.
Betting Pick:
Giants -1.5
Over eight runs
Giants -201
Bet like a pro with our Sports Betting Picks, Betting Analysis and In Depth Gambling Site Reviews. New York Mets at San Francisco Giants Betting Prediction and Preview at Online Betting Sports
Related Articles