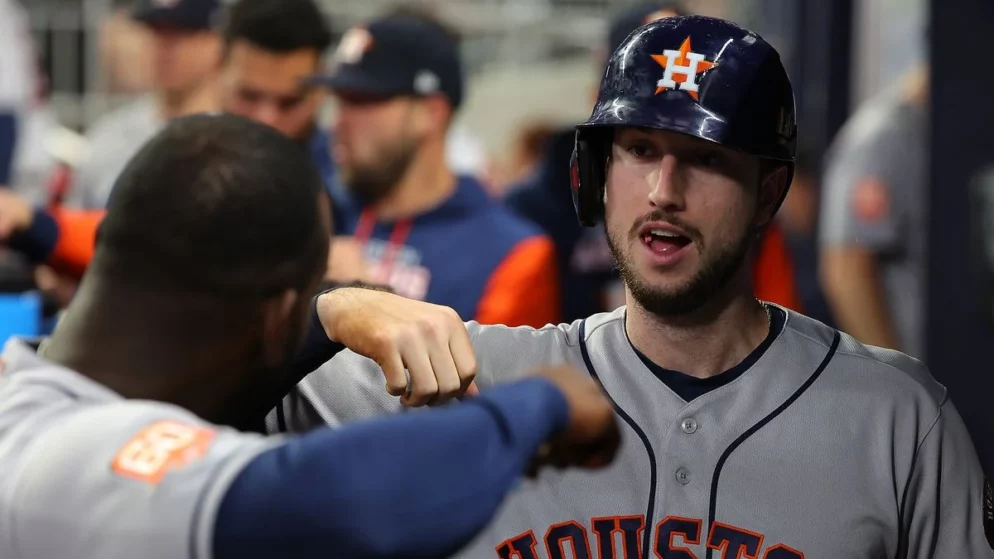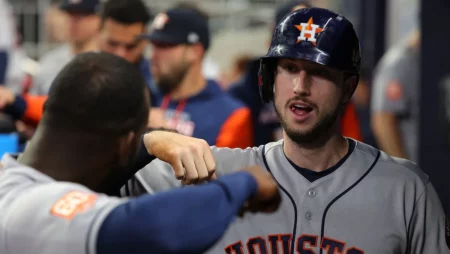 Odds, Picks and Predictions
Two American League playoff hopefuls meet in the second game of a three-game series as the Minnesota Twins visit the Houston Astros. In game one of the series, the Astros got the better of the Twins and took a 1-0 series lead on Tuesday evening.
Both of these teams are hunting for a playoff spot as the Astros currently lead the American League West division. At the same time, the Minnesota Twins are still alive in the AL Wild Card race as they sit just four games back from the third and final playoff spot and are three games behind in the AL Central division race.
The Astros are by far the better team at this point in the season, and they proved that on Monday night. Houston won game one of this three-game series 4-2 and covered the expected run line.
Coverage for game two of this series is at 8:10 PM ET at Minute Maid Park in Houston, Texas.
Minnesota Twins vs. Houston Astros Game Info
Location: Minute Maid Park Houston, Texas
Date: August 24, 2022
Time: 8:10 PM ET
TV: MLB.tv
Minnesota Twins vs. Houston Astros Odds
BetOnline: Run Line: Astros -1.5 (-105), Twins +1.5 (-115). MoneyLine: Astros -225, Twins +204. Over/Under 7.5 runs: Over (-125), Under (+105).
Bovada: Run Line: Astros -1.5 (-105), Twins +1.5 (-115). MoneyLine: Astros -230, Twins +190. Over/Under 7.5 runs: Over (-120), Under (+100).
MyBookie: Run Line: Astros -1.5 (-140), Twins +1.5 (+120). MoneyLine: Astros -322, Twins +261. Over/Under 7.5 runs: Over (-112), Under (-108).
Bet Us: Run Line: Astros -1.5 (-105), Twins +1.5 (-115). MoneyLine: Astros -230, Twins +190. Over/Under 7.5 runs: Over (-120), Under (+100).
BetNow: Run Line: Astros -1.5 (-105), Twins +1.5 (-115). MoneyLine: Astros -220, Twins +200. Over/Under 7.5 runs: Over (-115), Under (-105).
For anyone wanting to bet on sports, it is very important to look at multiple sportsbooks if they are available to you. While every sportsbook has the Astros as a -1.5 on the run line, not all of them are the same odds to cover it. The MoneyLine odds fluctuate as well depending on which sportsbook you check out your odds on. 
Houston is by far the odds-on favorite in this contest. They were able to cover the run line and Moneyline on Tuesday, and they will look to do it again at home on Monday.
TOP #3 Sports Betting Sites to Bet on MLB
Betting Trends
The Houston Astros are 65-59 against the run line this season.
The Minnesota Twins have a 55-66 record against the run line in 2022.
Houston is 4-0 vs. the run line all season against the Twins.
Minnesota is 17-31 as the underdog this year.
The Astros have a 79-45 record as the favorite this season.
The Twins are 27-31 on the road.
The Under is 6-0 in the Twins' last six games following a loss.
Houston is 7-0 in Framber Valdez's last seven starts against the AL Central.
Minnesota Twins Betting Analysis
The Minnesota Twins currently have a 62-59 record, which has kept them in the conversation for a playoff position. They have recently hit a rough patch as they are sliding on a four-game losing streak coming into Wednesday's game. 
A major part of the Twins' success is the ability to hit the ball and get on base. Currently, they rank eighth in the Major Leagues in slugging percentage (.410) and ninth in on-base percentage (.318).
The first baseman, Luis Arraez, has been a focal point for this Minnesota offense all season long. He currently leads the Twins with a .324 batting average. In last night's loss, Arraez was unable to get a hit but was able to draw a walk, get on base, and score a run in the contest. Expect him to work to figure out these Astros' pitchers on Wednesday.
The Twins are giving the start to Dylan Bundy. A once highly touted prospect, Bundy is now a veteran who has a 7-5 record with a 4.60 ERA. He hasn't gone passed six innings pitched in any of his past nine starts but was able to give up one earned run in his last start in his winning efforts against the Texas Rangers.
Minnesota is still in the hunt and needs to find a way to right the ship quickly if they want to play some extra baseball come October.
Houston Astros Betting Analysis
The Houston Astros have been a top team in Major League Baseball all season long. They currently are in first place in the American League West division with a 79-45 record. This team is built to win games and compete for a championship, and it all starts with their pitching staff.
Currently, the Astros rank in the top three of the MLB in ERA (3.07), WHIP (1.12), and batting average against (.216). These pitchers are at the top of their game with no signs of slowing down.
Framber Valdez is getting the start on Wednesday, and he has been consistent for this team all season. In his past two starts, he has gone seven innings in each of them and earned the wins as well.
He has a 12-4 record with a 2.72 ERA on the season. Valdez is the perfect option for the Astros to help them secure the series win in this game. 
Their offense is consistent, and a big part of that is the play from Yordan Alvarez. Alvarez leads the Astros in batting average at .296 and in home runs with 31 on the season.
He went 1-4 in yesterday's win and will look to use some of that momentum to generate some runs for his team on Wednesday night at home.
This Houston team is built for the long haul. They are a premier franchise in the MLB with no signs of slowing down. Expect the Astros to compete for a World Series championship once again come October.
Minnesota Twins vs. Houston Astros Picks and Predictions
With all of the scores, odds, and lines, it can be difficult to understand who to pick in this Wednesday evening game against the Twins and Astros.
Overall, Houston should defend their home ballpark and win this game and the series with it. They have dominated the Twins all year and will look to continue that trend in tonight's matchup.
Two quality starting pitchers are hitting the mound as well, so the lineups better be dialed in, or runs may be hard to come by.
The Houston Astros will win this game and cover the spread along with it.
Picks:
Houston Astros on the MoneyLine
Houston Astros to cover the -1.5 run line spread
Pick the Under 7.5 run total
Check out the Best Sportsbooks to Bet Online at Online Betting Sports-TOP Offshore Sportsbooks and Sports Betting Bonuses